BFT Deimos AC A
Siłowniki do bram przesuwnych rezydencjalnych zapewniają obsługę bram o masie do 800 kg (DEIMOS AC A 800 MAG)
Siłowniki do bram przesuwnych rezydencjalnych zapewniają obsługę bram o masie do 800 kg (DEIMOS AC A 800 MAG). Nowy design w pełni komponuje się z pozostałą ofertą produktów.
Bogata w funkcje centrala sterująca SHYRA wyposażona jest w nowy standard kolorowych złącz ułatwiających instalację,
Dodatkowo posiada zintegrowany radioodbiornik z kodem dynamicznie zmiennym, który umożliwia zapamiętanie do 63 pilotów.
Wysprzęglenie napędu za pomocą klucza spersonalizowanego.
Bogate możliwości centrali sterującej umożliwiają płynną i precyzyjną pracę. Siłowniki wyposażone są w magnetyczne wyłączniki krańcowe.
Parametry techniczne:
Masa bramy (kg): 800
Zasilanie: 230V +/- 10%, 50Hz
Napięcie zasilania silnika:  230V
Pobór mocy: 300 W
Moduł koła zębatego:  4 (14 zębów);
Czas otwarcia: 9m/min
Centrala sterująca: SHYRA-F AC
Spowolnienia: Tak
Blokada: mechaniczna
Wyłączniki krańcowe:  magnetyczne
Temperatura Pracy: od -20°C do + 55°C
Stopień ochrony:  IP44;
Tryb użytkowania: 10cykli/h
Masa siłownika: 8,7 kg
Radioodbiornik/kanały/pamięć: wbudowany/dwukanałowy/63 piloty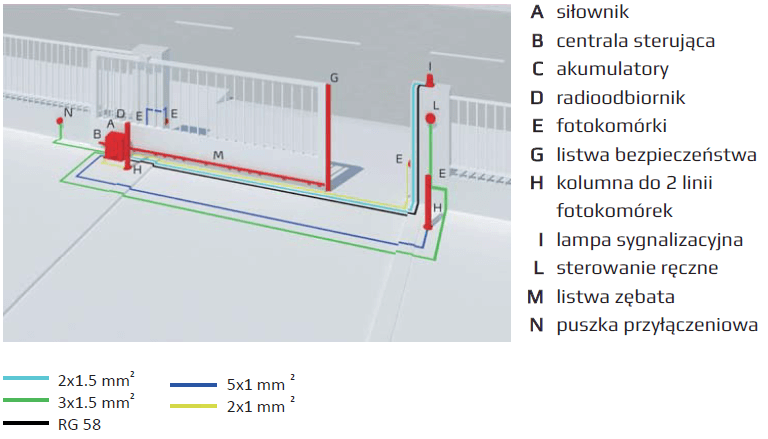 Would you like to obtain additional information or ask for a quote? It does not cost anything and does not place you under any obligation! On working days we will contact you within 48 hours.
Biuro Handlowe Kraków
Godziny otwarcia:
pn-pt:   10:00-18:00
sobota: 10:00-14:00
Kontakt 
tel./fax (012) 290 70 50
e-mail: zakopianka@migas-door.pl
Biuro Handlowe Niepołomice